The Feel Good Strength Method for Aging Joints
$37.00
$27.00
You Save:

$10.00 USD

(27.03%)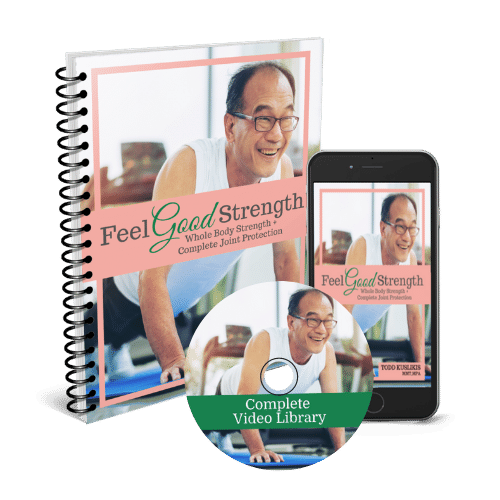 The Feel Good Strength Method for Aging Joints
$37.00
$27.00
You Save:

$10.00 USD

(27.03%)
"I purchased Feel Good Strength to help me gain strength after recovering from congestive heart failure. l now feel much more solid and stable on my feet." - George (Age 74)
Feel Good Strength is a unique exercise system to help you increase your strength by up to 54% in 8 weeks. This isometric, "no-movement" exercise approach is ideal for those 50 and over because it builds strength and increases muscle tone in your entire body while also protecting your joints. 
With our Feel Good Strength Manual and Feel Good Strength Video Library, you will feel like Coach Todd is in your living room. A personal coach to help you perform each exercise with perfect form so you build up your muscle tone and improve your strength.
With our isometric-based Feel Good Strength program, you can feel decades younger in just 8 short weeks.
The Feel Good Strength System Includes… 

Feel Good Strength Companion Guide (Booklet)
Get every exercise and workout at your fingertips. Simply flip to that day's workout and follow along.

Feel Good Strength Video Library (DVD)
Don't like searching for video downloads on your computer or phone? Yeah, I agree. It can be pretty frustrating when you can't find a link you paid for. Keep the Feel Good Strength DVD by your TV and push play whenever you are ready for your workout.

Instant Access to the Online Version
Of course, you'll get instant access to the online version so you can start right now if that's what you prefer. No need to wait for your booklet and DVD to arrive.
FREQUENTLY ASKED QUESTIONS
Do I need any special equipment? 
Nope. The entire program is bodyweight only so you won't need any equipment.
How hard are the exercises? I'm not in very good shape. 
The workout program starts off slowly and is perfect for anyone that is out of shape. The great thing about isometric-based exercises is that you can modify them easily. If you are more advanced, you can hold a pose longer and squeeze harder. If you are just starting out all you need is a few seconds to get the benefit.
Do you ship worldwide?
Unfortunately, at this time, we only ship within the United States and Canada. But if you live outside of those two countries send us an email at Todd@FeelGoodLife.com you can purchase the digital-only version.
How long will it take to receive my booklet and DVD? 
In the United States, you should have the program within 5-7 days. If you live in Canada, it can take upwards of 12-14 days.
How long will it take to see results?
It does take time to develop strength and for your muscles to tone. Be patient and consistent. You'll likely be amazed at your improvements in just 8 weeks.
Are isometric exercises dangerous?
Isometric exercises are "no-movement" which means you tighten the muscle without actually moving the joint. This makes them some of the safest types of exercises for people 60, 70, or even 80 years old. Many workout plans prescribe joint-jarring exercises like burpees or back-breaking exercises like deadlifts. Not this program. It's almost impossible to "overdo" isometrics because you are tensing against your own strength, not using an outside weight. But as always, it's good to ask your physician before starting any exercise routine.
Will Feel Good Strength work for me?
Although there are no guarantees it will work, it has improved the strength for many people. And we provide a 60-day money-back guarantee so there is no risk for you! Keep the program on us and we'll still give you a full refund!
What if it doesn't work for me? Is there a guarantee?
Absolutely. Feel Good Strength comes with a 60-day money-back guarantee. That means you have a full two months to try the program for yourself, risk-free. If you don't feel you are stronger and your body healthier during that time, simply let me know for a full and prompt refund - no questions asked.
Who do I contact if I have any questions about the program? I've tried programs before and nobody helped me. 
Easy, after you order the program you'll get a special email that goes directly to me and my team. I'm here to serve you and help you live a pain-free life. You are not alone!
Start the Feel Good Strength system today to maintain a strong, healthy body. Click "Add to Cart" Now
Customer Reviews
01/05/2021
Jane L.

United States
Very Good Home Workout
I've only recently started the Feel Good Strength program. I started with a review of the manual and background videos on isometrics and I'm now putting it all together into a workout. After much experience over my life with free weights and machines, I have a new appreciation for isometrics. They feel much more appropriate/safer on my joints. To me, the specific exercise videos - which help to ensure correct form, etc. - are a key resources to getting the most benefit out of the follow along video.
they are helping me feel stronger.
I bought your isometric strength training package because I thought it would be easy on my joints and I could use it as part of my self care treatment plan to manage pain, stiffness and to slow the progression of the DISH. I started doing a modified version (gentler sqeezing so I do not strain or injure tendons) of the phase I exercises at the beginning of this month and find that they are helping me feel stronger.
This is a routine you can fit in any time, even on holiday or in the hotel room on a business trip
I've recommended Isometrics to loads of friends and colleagues. I particularly like the short routines and the fact that it's always challenging. If you give your all in the isometric holds the "conventional" exercise becomes quite tough, so giving a great workout and without needing any gym equipment. This is a routine you can fit in any time, even on holiday or in the hotel room on a business trip.Thanks for a great program!
I'm using isometric exercise to help heal my shoulder.
I want to thank you for designing and providing such a fine isometrics strength program for people interested in that type of situation for themselves. I have ordered some of your other programs in the past and have used many of the bodyweight strategies successfully. My main purpose in ordering your latest Isometrics Strength program is my new found interest in isometrics for rehab purposes. You see, I recently incurred an injury to my right clavical bone and rotator cuff area. I am in a financial situation without health insurance whereby I can't afford to have any surgery and that would be my last resort anyway. So, with your program, coupled with some other information I've gleaned from the internet from orthopedic sights, I'm using isometric exercise to help heal my shoulder. I have high hopes that I will be successful although I know it will take time for a complete healing.
Using your Isometric exercises, l feel much more solid and more stable on my feet.
I am a 74 y o man. I recently purchased isometrics to help me gain strength after recovering from several years of congestive heart failure. Using your Isometric exercises, l feel much more solid and more stable on my feet. Thank you.