Ancient Feel Good Energy Exercises
$37.00
$27.00
You Save:

$10.00 USD

(27.03%)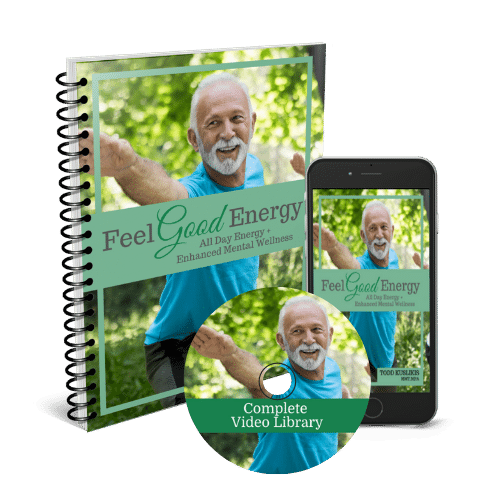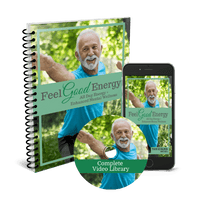 Ancient Feel Good Energy Exercises
$37.00
$27.00
You Save:

$10.00 USD

(27.03%)
"Feeling tired" all the time? You're not alone. Fatigue is one of the most common complaints in the older population.
Feel Good Energy will help you boost your energy levels using a series of ancient physical and mental exercises used for thousands of years in Traditional Chinese Medicine.
These no-nonsense "energy exercises" have been distilled into an easy-to-follow 7-minute daily ritual. After applying these techniques, you'll wake up feeling refreshed each day, gain a positive mental outlook, and experience all-day energy so you can live your life to the fullest.
The Feel Good energy booklet and accompanying DVD will lead you through 4 progressive levels to help you defeat fatigue. The only thing you need is a comfortable space to stand and practice your daily exercises.
The Feel Good Energy System Includes… 

Feel Good Energy Companion Guide (Booklet)
In this handy spiral-bound booklet, you'll learn how to do each exercise in the program with perfect form. Comes with pictures and detailed descriptions. Put it in your purse or glove box so you always have it within arm's reach.

Feel Good Energy Video Library (DVD)
Each level of the Feel Good Energy system comes with a follow-along video. Just hit play on your remote and follow along. Also includes exercise tutorials and instructional videos so you get the most out of the program. 

Instant Access to the Online Version
Of course, you'll get instant access to the online version so you can start right now if that's what you prefer. No need to wait for your booklet and DVD to arrive.
Start the Feel Good Energy system today and live with mental clarity and all-day energy.
Customer Reviews
11/04/2021
Molly

United States
Taking time to feel
I think the exercises help me get in touch with what's going on in my body. I walk around often, slouched and clenching. When I do the exercises it helps me loosen up and breathe. They are fun to imagine and it seems to give me more power to go through out my day. Looking forward to doing these everyday.
01/06/2021
Sharon C.

United States
Wake up
Such a burst of energy and it is fun after I got over smiling and talking to myself. No longer worry about talking to myself. Short, effective, than you.