The 5 Minute Feel Good Knees Method (Digital Version)
$37.00
$27.00
You Save:

$10.00 USD

(27.03%)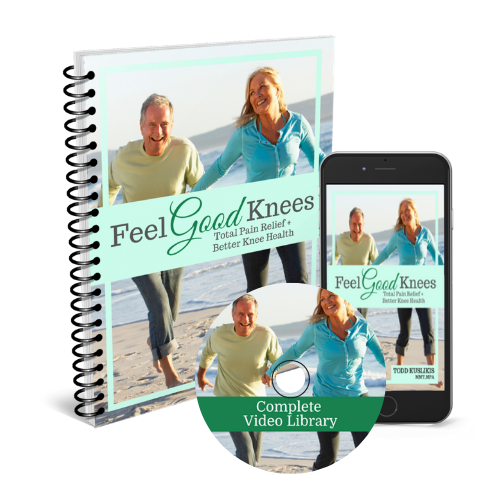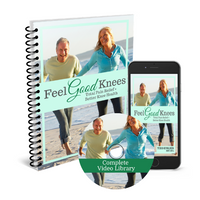 The 5 Minute Feel Good Knees Method (Digital Version)
$37.00
$27.00
You Save:

$10.00 USD

(27.03%)
Knee pain is often caused by wear & tear, misalignment or injury. Yet many professionals recommend exercises that actually make pain and inflammation worse. 
Feel Good Life has developed a life-changing 6-week program called The 5 Minute Feel Good Knees Method. This "no-movement" isometric program is designed to free the knee joint from the onslaught of pain in the comfort of home.
Our unique exercise-based approach to knee pain relief is all-natural and will help rid the body of knee pain without expensive therapy appointments or drugs ridden with long-term side effects.
Isometrics exercises help increase strength, reduce inflammation and realign the knee without causing further pain.
The 5 Minute Feel Good Knees Method Includes: 
Get detailed instructions so you perform every exercise with perfect form and receive maximum relief.
The exercises included the 5 Minute Feel Good Knees method are gentle, soothing, and doable for any fitness level. 
Track your progress every day and see measurable relief! Just check off each exercise as you complete it. It's fun and manageable!
Only 5 minutes a day! 
The exercises can be modified to sitting or standing postures. Perform the exercises from your bed, chair, or even in line at the grocery store. Every fitness level is welcome. 
Includes HD video instruction so you learn how to perform each exercise and get maximum benefit. 
Just tap play on your computer, phone, or tablet. Follow along with Coach Todd as you perform the gentle routines for knee relief. 
Order today and you'll receive two special bonus guides!  
1. Postural Alignment Guide gives you quick tips to align the ankle, knee, hip, back, and neck to help decrease overall joint stress. 
2. 1-Minute Rejuvenation finishers can be performed any time throughout the day to help reduce knee swelling and provide greater relief. 
3 Unique Levels To Improve Knee Health & Reduce Pain
You'll progress through 3 levels that help bring better knee alignment, reduce inflammation, and improve overall knee strength.
Level One is designed to realign the knee. Even a tiny misalignment can increase knee strain by 80% so let's get those knees aligned to the rest of your body.
Level Two builds on your new-found strength from level 1 so the knee joint can handle whatever life throws at them. And don't worry, these exercises are gentle, soothing and most can be done from a sitting position or even bed.
Level Three flushes harmful inflammation out of the knee using proven "knee rejuvenation exercises".
**This is an instant access digital download.**
You'll receive an email notification immediately with instructions on how to access the 5 Minute Feel Good Knees Method. 
Start the Feel Good Knees system today and finally defeat knee pain.
Customer Reviews
Not really feeling old!!
This message is from ''ole lady Nan (77)", but not really feeling old because of your "Feel Good Knees" program (+other of your figurines to show exercises for different body 'parts'). Yes, my compliments to you & your artist; the images are spot-on for any of us to do remotely!
No more pain
Hi Todd, I am approaching Level 3 Week 5. really enjoy your program very much and I am impressed with your 5 minute sessions. I do not have pain anymore
Finally walking!
I had both knees replaced two and a half months ago and these exercises I did before and after surgery! No problems and am walking with a cane and sometimes without!
Noticing improvement!
Already your help is valuable. Exercises are manageable, explanations straight -forward, and noticeable improvement . But must be regularly repeated. Wonderful! Thank You
Less Pain
Great video and book