Feel Good Knees Accelerator for Faster Joint Relief
$37.00
$27.00
You Save:

$10.00 USD

(27.03%)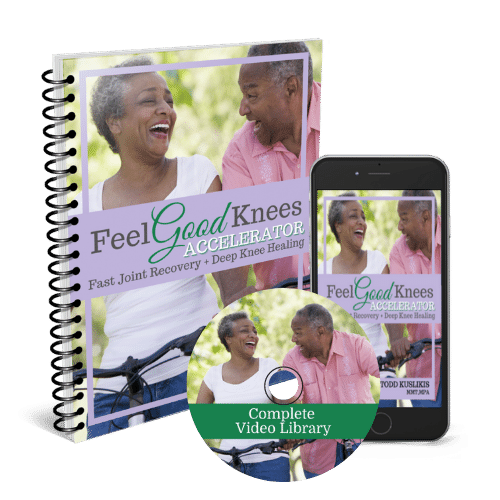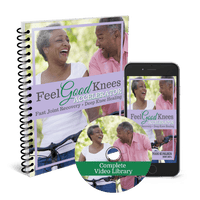 Feel Good Knees Accelerator for Faster Joint Relief
$37.00
$27.00
You Save:

$10.00 USD

(27.03%)
Get even faster joint recovery and deeper knee healing. Our 5 Minute Feel Good Knees System has now become even more powerful and effective with our special add on called the Feel Good Knees Accelerator. This program accelerates knee healing with 3 powerful techniques; Mobilization, Isometrics, and Massage.
Morning Routine: The 30-second Knee Mobilizer loosens up the fascia around your knee and sends joint stiffness on its way.
Daytime Routine: The Bulletproof Knees ritual strengthens the muscles, tendons, and ligaments in your knees and improves stability and range of motion.
Bedtime Routine: The Feel Good Knees Midnight Melt-away Massage melts away knee strain from the day and stimulates your body's healing processes to repair your knee joints, all while enjoying a night of restful sleep.
The Feel Good Knees Accelerator System Includes... 

Feel Good Knees Accelerator Companion Guide (Booklet)
All 3 rituals are clearly laid out in this convenient spiral-bound booklet. No need to search your cluttered inbox for download links.
Feel Good Knees Accelerator Video Library (DVD)
Get access to follow-along videos for each of the Feel Good Knees Accelerator routines. Just hit "play" on your remote and follow along. Also includes a short video for every exercise so can perform each exercise with laser-like precision.
Instant Access to the Online Version
When you purchase today, you'll also get instant access to our downloadable version of Feel Good Knees Accelerator so you can get started right away while you wait for your booklet and DVD to arrive.
Start the Feel Good Knees Accelerator system today and defeat knee pain faster.
Customer Reviews
05/08/2021
Janice P.

United States
Getting better
I am currently working on Level 2. I like that I now have techniques to stop the pain when it comes to my left knee (pain is on the side of my knee located at inside of my leg). Pain in knee usually comes when I am in bed but happens during the day at times also. This morning I was taking a step aerobics class at the gym. My knee started hurting so I started using my thumbs to press and move toward the knee cap and around it. I did it standing up and did it only 2 - 3 times. When I started participating in the class again, it was still hurting but soon the pain was gone!
01/29/2021
Sharon C.

United States
Comfortable help
Ordered this as I lost my disc for first order. Helps a great deal, knees are less painful or mostly pain free. A treasure as one knee has little cartilage, and does not tolerate standard exercise. Weight loss has helped, but rejuvenation is really got my knees back to a comfortable place. Looking forward to the last part to complete the rehab, but will keep the exercises going to maintain the knees. Following the six week time has been so helpful. Did dabble at the first level, this time seeing it through has made all the difference.
01/29/2021
DONALD K.

United States
Feel good
Did not receive as of yet
05/04/2021
Jenny G.

United States
They do not honor a refund
Horrible. I have written 4 emails asking for a full refund. At one point Brianna made it sound like she would handle this. No one will respond to my emails and no refund has come to date.
05/04/2021
Feel Good Life
Hi Jenny. I looked into this for you, and we did receive your email on April 14th requesting a refund! Our customer support had responded within the same day to confirm. We never heard back from you! We'd be more than happy to issue you a full refund. Our customer support just sent you another email to follow up and get that taken care of right away for you. We hope to hear from you soon. Thank you!