Feel Good Body Rejuvenation Routines (Digital Version)
$37.00
$27.00
You Save:

$10.00 USD

(27.03%)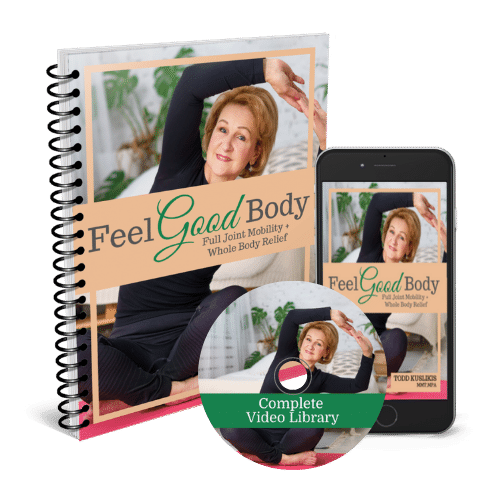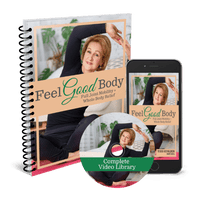 Feel Good Body Rejuvenation Routines (Digital Version)
$37.00
$27.00
You Save:

$10.00 USD

(27.03%)
Do you wake up feeling achy all over? Do your shoulders and hips creak and crack like an old door in desperate need of a big slab of grease?
The Feel Good Body exercise program contains easy, home-based exercises and stretches to decrease joint pain, increase mobility, and improve the health of all your major joints. No special equipment is needed and you'll receive online access to guide you every step of the way.
With our groundbreaking ASR 3-tiered approach, you'll Align, Strengthen, and Rejuvenate your achy, tired joints in just a few short minutes each day.
ALIGN: Postural correction exercises align your joints and decrease wear and tear.

STRENGTHEN: Isometric exercises tone and build strength in the muscles, tendons, and ligaments that surround each joint.

REJUVENATE: Rejuvenation exercises eliminate joint damage and harmful inflammation.
The Feel Good Body program makes each joint feel younger and more vibrant in just weeks. Includes routines for Neck, Shoulders, Elbows, Hands, Low Back, Hips, and Ankles.
The Feel Good Body Routines Include…

Feel Good Body Companion Guide (Online Access)
In this handy digital ebok, you'll learn how to do each freeing mobility exercise with perfect form. Comes with pictures and detailed descriptions. 
 
Feel Good Body Video Library (Online Video Library)
Get access to follow-along videos for each of the major joints in the body so all you have to do is tap "play" and follow along for the next 3-7 minutes depending on what you want to focus on that day. Also includes a short video for every exercise so can perform each exercise with laser-like precision.
Start the Feel Good Body system today and enjoy all your favorite activities again without joint pain.