The Feel Good Knees Accelerator for Faster Joint Relief (PLUS 30 Days FREE Access To The Feel Good Knees Monthly Club)
$27.00
$12.99
You Save:

$14.01 USD

(51.89%)
The Feel Good Knees Accelerator for Faster Joint Relief (PLUS 30 Days FREE Access To The Feel Good Knees Monthly Club)
Simple Home-based Exercises for Pain-Free Knees... Specifically Designed for Aging Joints
Approved by Doctor of Physical Therapy

Supports Greater Independence

Designed for People Over 50
I now have techniques to stop the pain!
" Pain in my knee usually comes when I am in bed but happens during the day at times also. This morning I was taking a step aerobics class at the gym. My knee started hurting so I started using my thumbs to press and move toward the knee cap and around it....soon the pain was gone!" 
Janice P., Age 69

Verified Buyer
3 Gentle & Easy Rituals To Accelerate Your Body's Internal Healing For Even Faster Knee Relief...
The Feel Good Knees Accelerator gives you targeted pain relief at certain key points throughout the day. Get even faster joint recovery and deeper knee healing in only 2-3 minutes a day.
Here's how the Knee Accelerator Method works... 
Step 1: Use The 30-Sec Morning Mobilizer as soon as you wake up.  This will increase joint mobility, reduce inflammation and soothe away those stiff and painful morning knees. It takes less than a minute but feels so good you'll want to do it longer.
Step 2: Use The Bulletproof Knees Formula at any point during the day or at work s o you can effortlessly get up and down from chairs or stairs without suffering through irritation or pain spikes. Oftentimes, your knees may feel stiff or swollen during the day. This quick, but powerful routine helps prevent those unwanted daytime battles with stiffness in under a minute.  
Step 3: Use the Midnight MeltAway Massage right before bed so you can wash away any swelling and tension for better sleep and nighttime healing. 
The Feel Good Knees Accelerator System Includes...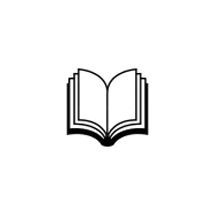 Feel Good Knees Accelerator Companion Guide (Booklet)
lazy
All 3 routines are clearly laid out in this convenient spiral-bound booklet. No need to search your cluttered inbox for download links.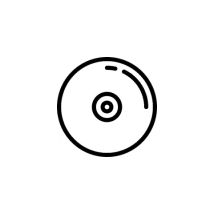 Feel Good Knees Accelerator Video Library (DVD)
Get access to follow-along videos for each of the Feel Good Knees Accelerator routines. Just hit "play" on your remote and follow along. Also includes a short video for every exercise so can perform each exercise with laser-like precision.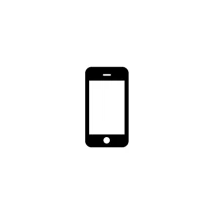 Instant Access to the Online Version
When you purchase today, you'll also get instant access to our downloadable version of Feel Good Knees Accelerator so you can get started right away while you wait for your booklet and DVD to arrive.
Stay Motivated with New Themes Each Month!
Every month, we cover a new theme so you never get bored and your knee health continues to improve!
Here are some examples of issues from previous months...
April:
Increasing Knee Mobility with the "Knee Cap Release" Technique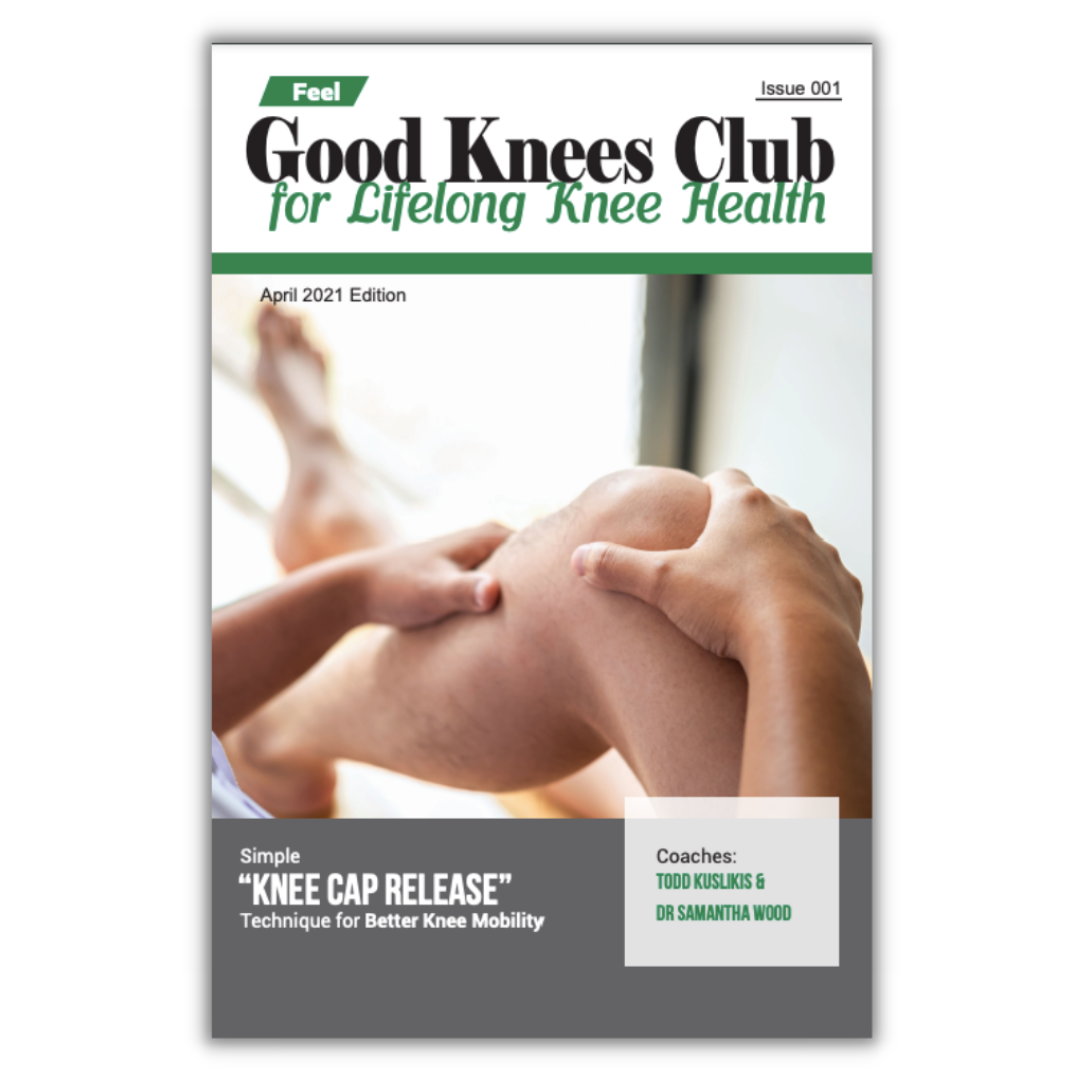 May:
The 10 Commandments of Reducing Joint Inflammation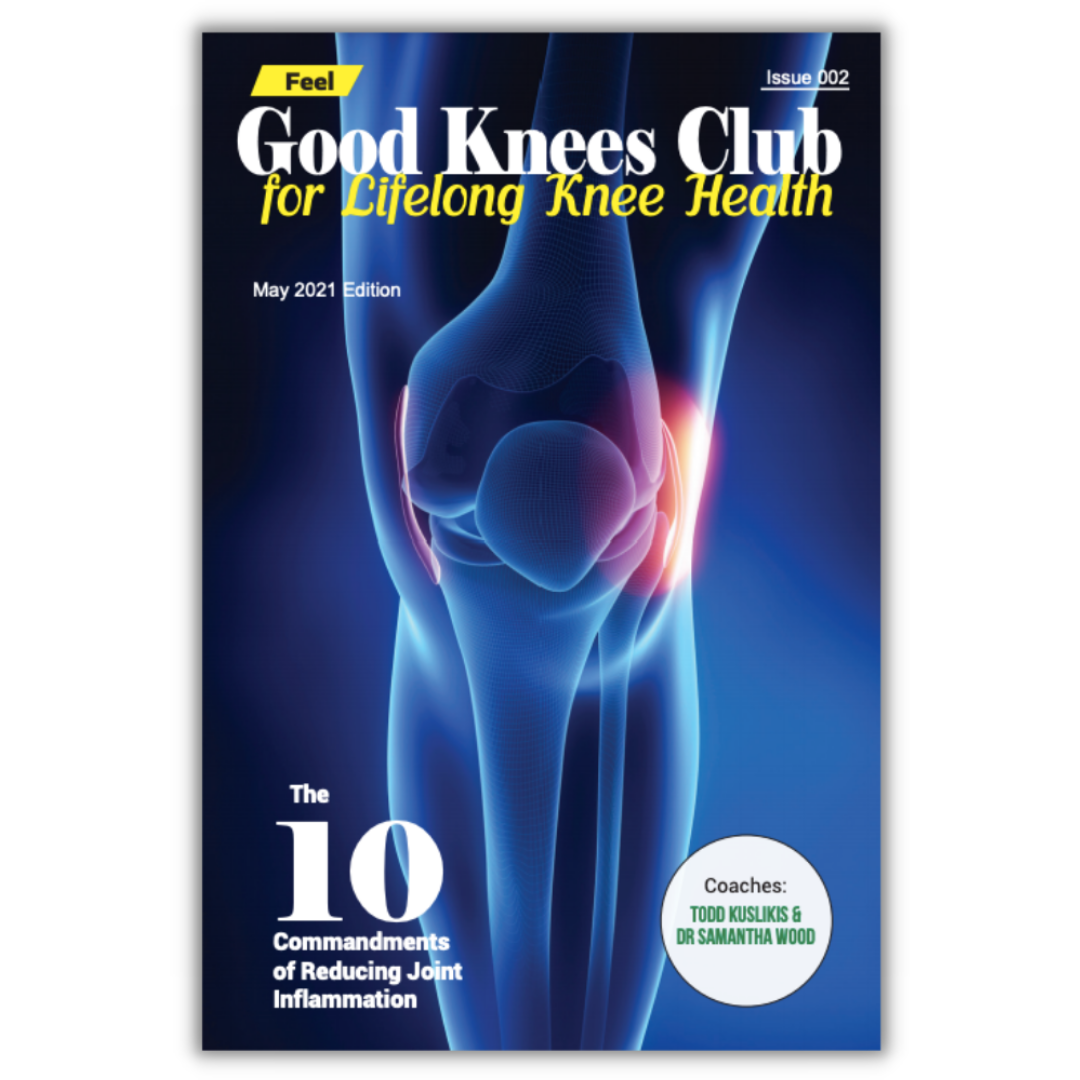 June:
Protecting Your Knees Through Better Joint Alignment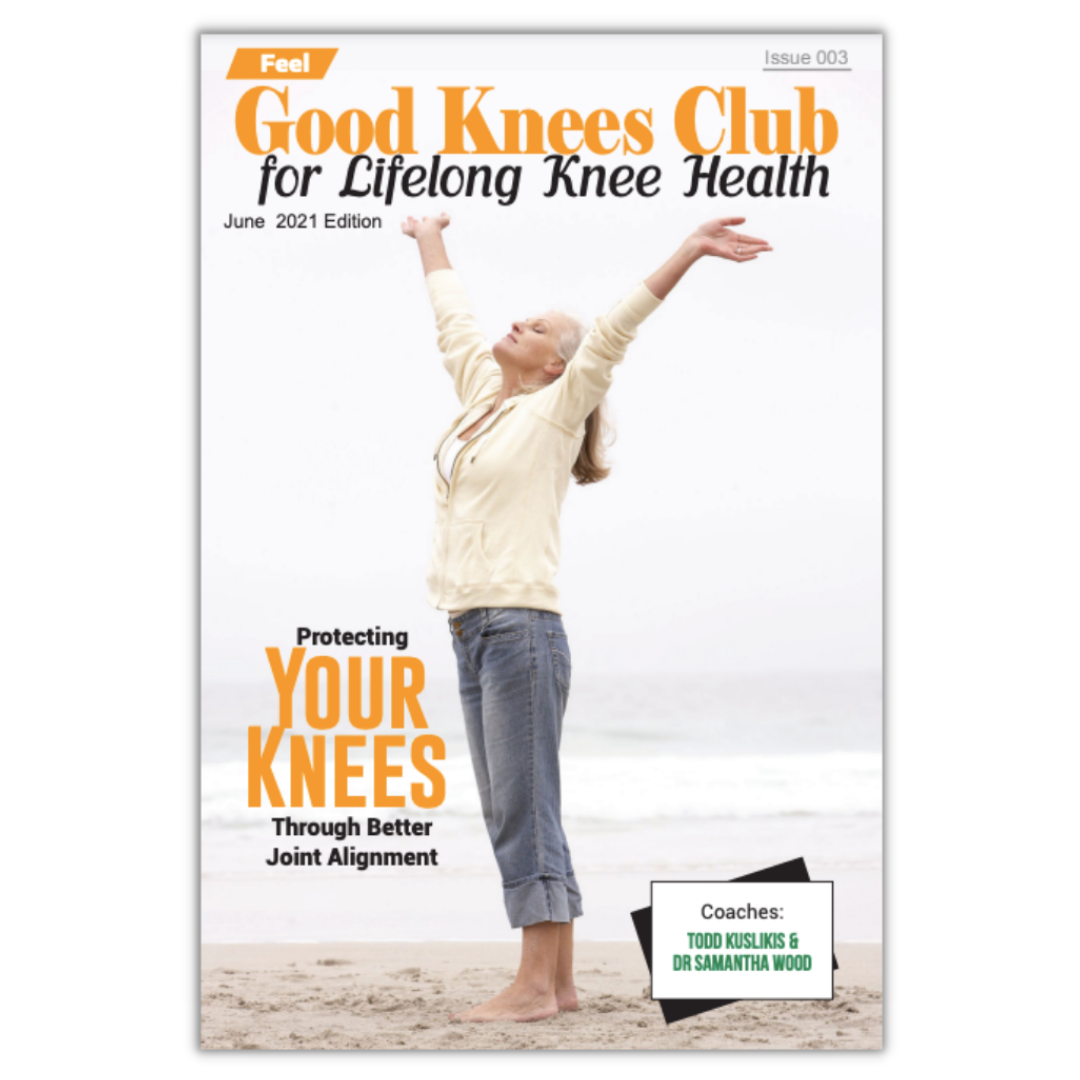 Frequently Asked Questions
Click "Add to Cart" & Get The Feel Good Knees Accelerator for 50% OFF (Plus Bonus 30 Days FREE Access to the Feel Good Knees Club!)